Who doesn't like hashbrown casserole? I love how versatile it is. You can make it for breakfast, brunch, dinner or any time. You can even make it ahead of time and bake it when you need it. This loaded hashbrown casserole recipe doesn't disappoint. And it's super easy to make!
One of the things I love about this recipe is that you can easily substitute ingredients. I used ham for my hashbrown casserole, but you can substitute cooked sausage (ground or links) or even chicken for the ham. Or leave the meat out completely, it's totally up to you!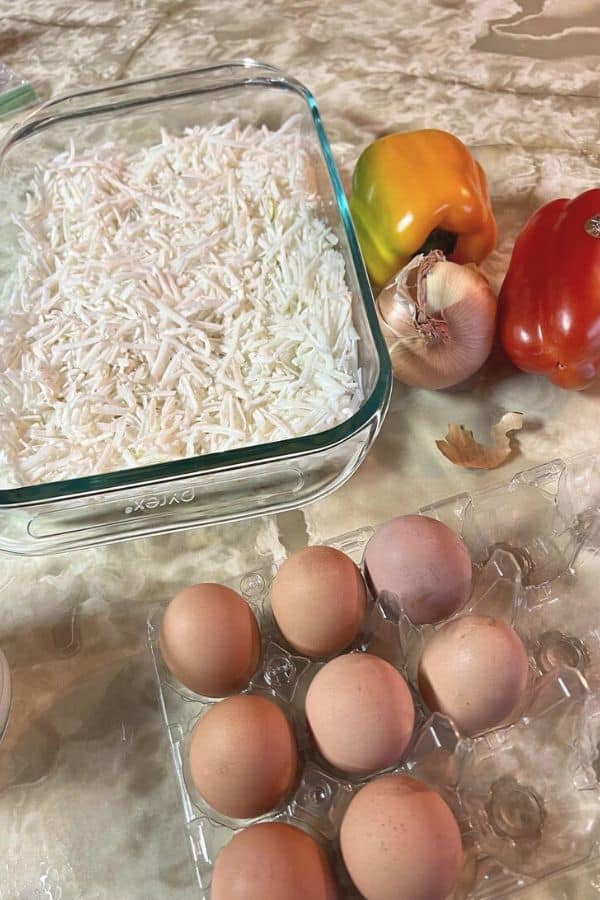 Cheesy Hashbrown Casserole
Ingredients:
20 oz. frozen shredded hashbrowns
2 c. chopped ham
1/4 c. onion, chopped finely
1 bell pepper, chopped finely
2 c. cheddar cheese, grated
8 eggs
1 1/3 c. milk
Salt and pepper to taste
If you're going to be baking your casserole right away, preheat you oven to 350 degrees. Grease a 13x9x2-inch baking dish.
I used chopped ham that I purchased already chopped from the grocery store, so I didn't have to prepare my meat ahead of time. If you are using ground sausage, go ahead and cook it right now. You will want to cook about 1 lb. of sausage, but it doesn't have to be exact.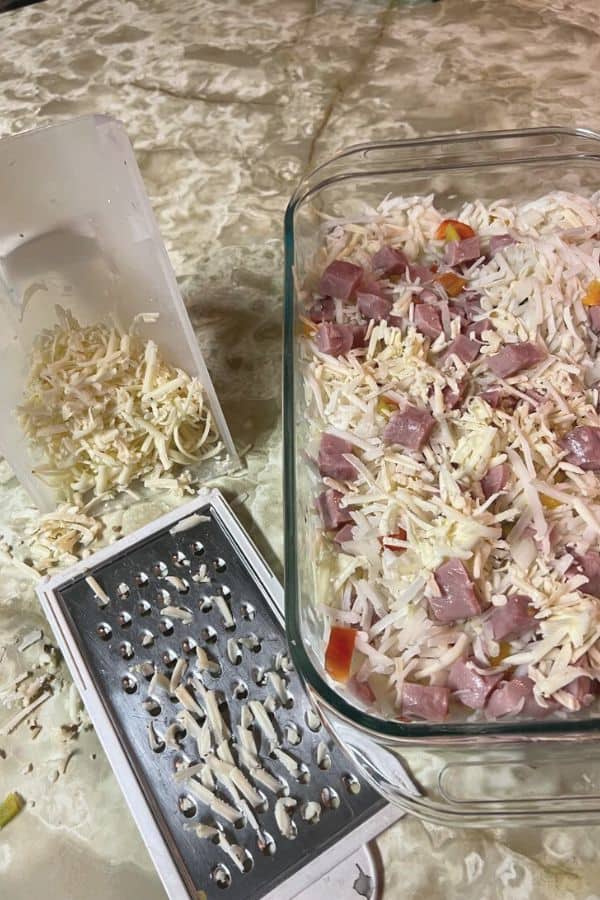 Place the frozen hashbrowns, chopped onion, chopped bell peppers, and 1 1/2 cups grated cheddar cheese into the greased pan, and gently stir to mix.
Note: I didn't have enough cheddar cheese on hand so I substituted grated pepper jack cheese for half of the cheese, and it turned out great.
In a large bowl, whisk together the eggs, milk, and salt and pepper. Pour the egg mixture over the hashbrowns. Sprinkle the remaining 1/2 c. grated cheese on top.
At this point you can either bake the casserole for about 60 minutes (or until cooked through), or cover it and place it in the refrigerator and bake it within the next day or two. When baking it after removing it from the refrigerator, just keep in mind that it may take 15 or so extra minutes for it to bake.
Can You Freeze Hashbrown Casserole?
Yes you can freeze hashbrown casserole! You definitely can make this loaded hashbrown casserole ahead of time and freeze it for later. Just cover it with foil and freeze it (uncooked) until you are ready to bake it. Let it thaw out in the refrigerator for 24 hours before you bake it.
You can also freeze a cooked cheesy hashbrown casserole (or the leftovers), but you will find that it tastes more fresh if you freeze it uncooked and bake it when you're ready to serve it.
Enjoy!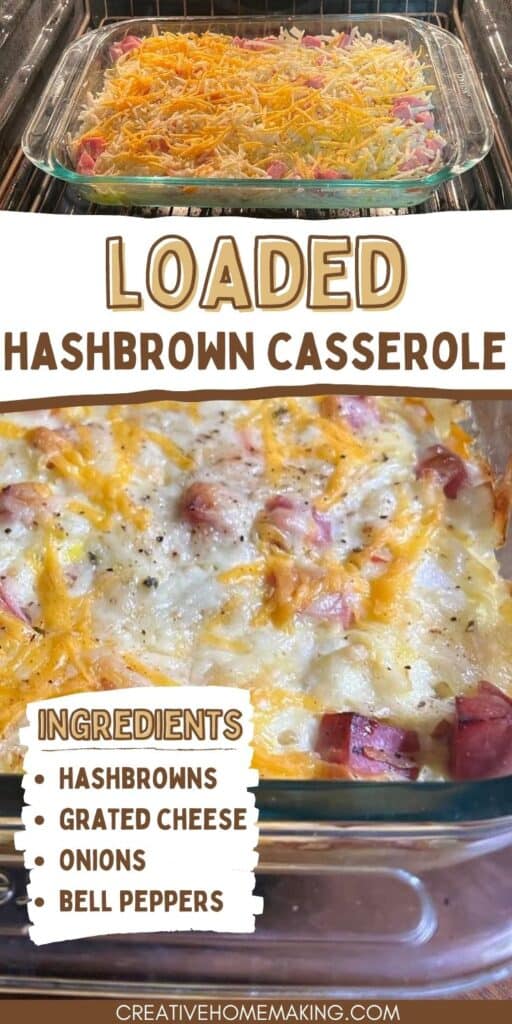 This post may contain affiliate links.