This candy cane or peppermint bark is really easy to make. You just melt the chocolate and pour it into the molds. I saw this cute idea where they used snowflake silicone molds. I couldn't find the snowflake ones, but found some really cute Christmas tree molds at Walmart. You can order the snowflake ones online at Amazon.
This post may contain affiliate links.
Candy Cane Bark Recipe
Ingredients:
Chocolate melts
Candy canes
Vegetable oil
This recipe is really versatile. You can use white or milk chocolate for these. In the snowflake recipe they layered milk chocolate and white chocolate and it looked really pretty. I decided to just use the white melts with crushed candy canes mixed in.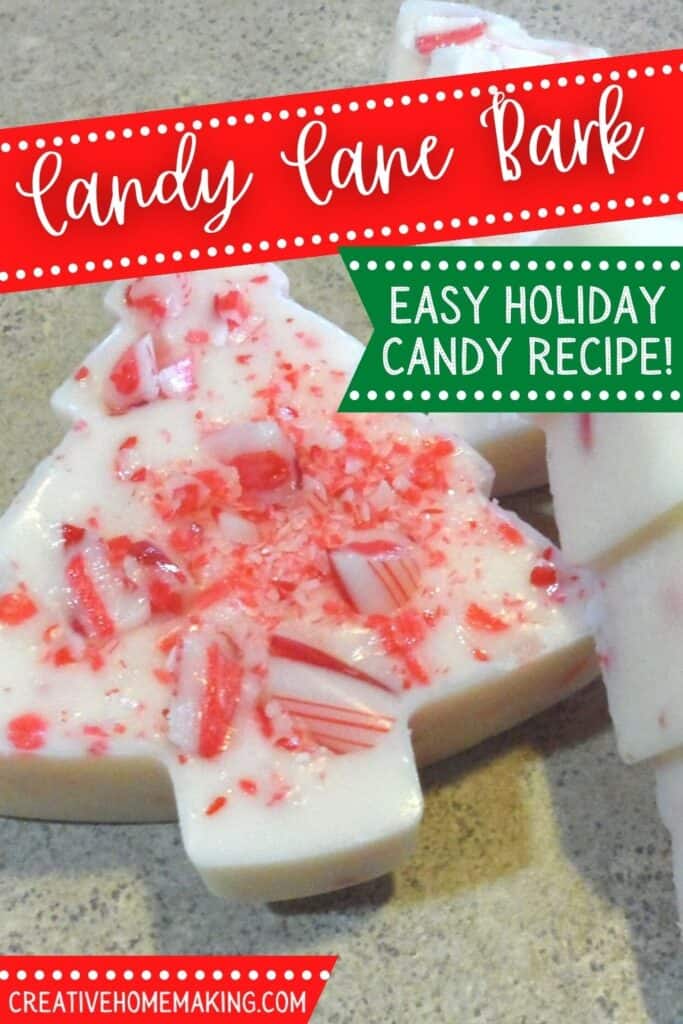 To crush the candy canes, place them in a large ziploc bag and crush them with a mallet or hammer. I used a rolling pin to smash them. I saw a neat trick for getting the candy canes ready to mix in the chocolate.
When you crush the candy canes, a lot of powder settles down to the bottom. You want to get this powder out before you mix the candy in. Sift the candy through a fine mesh sieve to sift out the bigger pieces of candy. I crushed up one box of candy canes for this recipe.
One bag of melts makes about 1 1/2 pans of bark, depending on the size of your molds. You will also get more out of it if you are making the candies thin. Don't heat more chocolate than you have molds for. You can always make another batch after the first batch is done.
To melt the chocolate, place the pieces of chocolate in a microwaveable bowl and heat on high for 30 seconds. Add one teaspoon of vegetable oil for each bag of melts that you are heating. Stir and cook another 30 seconds. Continue until chocolate is completely melted.
Stir in the crushed candy canes. I put in about 3/4 of the candy and reserved 1/4 to sprinkle on top.
Pour melted chocolate into silicone molds. If the molds are deep, don't fill them up all the way, or you will have really thick pieces of bark. I filled mine about halfway. Sprinkle remaining crushed candy canes on top and place molds in the refrigerator for about an hour until candy hardens so that you can remove them from the pan.
If you want to layer two colors of melts (red and white would look pretty), pour in a thin layer of the first color and let set for about an hour in the refrigerator. Prepare and pour in second layer and refrigerate for an additional hour before removing the candies from the pan.
This candy cane bark is so versatile. If you don't have a mold, you can just pour the melted chocolate in a thin layer on waxed paper and break it into pieces when it hardens. You can make this bark for any holiday and make it any flavor by adding different kinds of crushed candy.
Follow my Christmas board on Pinterest.
Related Recipes: