Last year I made homemade dishwasher detergent for the first time. I have been using it ever since. I didn't think the recipe could be improved on, until I found the idea for these DIY dishwasher detergent tablets.
This post may contain affiliate links.
The recipe for these is basically the same as the dishwasher detergent I posted earlier. The difference is the addition of lemon juice, which is used to bind the powders together so that you can shape them in the form of cubes.
Ingredients:
2 c. Borax
1 c kosher salt or Epsom salt
Bottled lemon juice
Ice cube trays
In the previous article, Lemi Shine was used in the place of lemon juice. The Lemi Shine and lemon juice both provide needed citric acid to the recipe. People who have really hard water love Lemi Shine.
Lemi Shine does a great job of naturally reducing water spots and cloudiness on glassware. If your water isn't really hard, then you might find the lemon juice works just as well. So far the lemon juice is working great for me.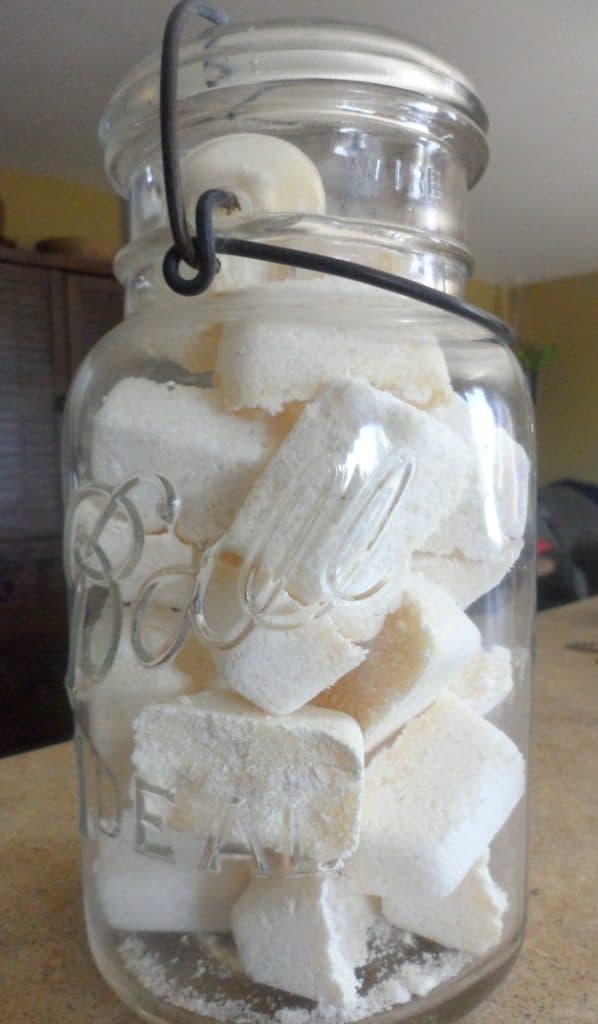 Mix the Borax, washing soda (not baking soda), and salt. I used Epsom salt for this recipe. Next pour in a little lemon juice and stir. Keep adding lemon juice until the dry mixture clumps together. You want the mixture to be moist but not soggy wet.
Press the mixture into the ice cube trays. You might want to measure the height of your ice cube trays and the height of the dishwasher detergent compartment in your dishwasher.
The cubes may be too tall to fit in your dishwasher detergent compartment. If it is too tall, just fill the ice cube trays half full so that they will fit in your dishwasher.
This recipe will fill approximately four ice cube trays. Press the mixture until it is compact. Place the trays in a warm place to dry. This is great to do during the hot summer months. In our 100 plus degree weather mine dried on the back patio in less than 24 hours.
After the cubes have dried, pop them out of the ice cube trays and store them in an air tight container.
You might wonder if these work better than the previous recipe. Actually they work about the same, and I like both. These are a little more effort to make, but a lot of people have problems with the powder in the first recipe hardening in the container, making it hard to get out.
These cubes eliminate that problem, you just take out a cube and it is ready to use.
And don't forget to use white vinegar as a rinse aid in your Jet Dry compartment. This will also help cut down on hard water spots and keep both your dishes and your dishwasher sparkling clean.
Follow my cleaning board on Pinterest.
Related Articles